Note: A few links are not currently working, I don't know if this is a Blogger problem or mine. They were working a day ago. I am working on this problem. The links to the websites do work and they take you to the post of the project listed.
I have completed our list of fun things we are going to try and get done this summer. This really didn't photograph well, looks much better in person. I have a description on how I made this
here
. I love that the list is right in the kitchen where we can see it often and stay on task. We wrote our list right onto the glass with a Sharpie (it will come off later with glass cleaner). I might turn this frame into a weekly MENU in the fall.
I have purchased most of the necessary "stuff" for the crafts so they are bagged by activity and ready to go, finally.
No promises that I won't add to the list, but this is what we have so far:
1. Visit an
AMUSEMENT PARK
2. Sign up for the LIBRARY READING PROGRAM
- maybe create a fun book reading nook, fort or teepee, like the one seen
HERE
, from
TATERTOTS and JELLO
, just for reading, complete with bookmarks, reading log, comfy pillows and treats!
3. SCRAPBOOK DAY
- bring out the scrapbook supplies, put on some music, set up a clean, well lit place to work, promise a yummy lunch break and get to work making memories while documenting memories.
4. Go BERRY PICKING
Google "pick-your-own" crops for your area. Freeze what you can't eat for later.
5. Make STRAWBERRY POLKA-DOT SHAKES
(shown above) directions
here
, from the
SWEET PAUL blog
.
6. Assemble "MAKE AHEAD FROZEN SMOOTHIES"
yum. From
THE TIDY NEST
. See
this
post.
7. Have a PICNIC by a stream or river.
Collect RIVER ROCKS.
8. Make some RIVER ROCK CRAFT
S, from
MY YELLOW SANDBOX
. The DIY shown
here
.
9. 30 DAYS OF DRAWING - CHALLENGE
. I bought a new sketch book and pencils for each child. Nothing inspires like fresh blank paper! Then, list 30 things they should draw over 30 days. Such as, a self-portrait, a favorite animal, a dream they had, something orange, their foot, a sibling, etc.
10. Visit a FACTORY
, we have a potato chip factory nearby that offers tours and of course free samples.
11. Do SOMETHING WE'VE NEVER DONE BEFORE
12. Visit an ART MUSEUM
13. Visit a MUSEUM we've NEVER BEEN TO BEFORE
14. SEWING DAY
- I have a looooong list of things I've been wanting to sew. Do you need inspiration? Check out
THIS
post of
100 THINGS TO DO WITH FAT QUARTERS
15. BREAK POOL RECORDS
on summer swim team. This has been a goal for my kids a few summers now, this year they are about one second away....
16. Make an INSIDE FORT
like the one above, which is from a British online store, but it looks like it wouldn't be too difficult to DIY. There are also many teepee tutorials out there, check out the A-FRAME tent seen above,
here
.
17. Make an OUTSIDE FORT
, still need to research this one, I'm sure there are many ideas out there.
18. Make GIANT BUBBLES
, shown
here
at
Tater Tots And Jello
.
19. SUMMER SLEEPOVER
where my kids and a few friends take over the basement and guest ro
om.

20. Visit the HARBOR.
21. FAMILY CONCERT
, this was my kids idea, two play instruments, the other two will be outfitted with bongos, bells or egg shakers.
22. Make a BLUEBIRD HOUSE
.
23. Neighborhood WATER BALLOON FIGHT
. I'm thinking of putting a fun flyer with some water balloons (empty) in everyone's mailbox.
24. CAMP OUT
, with some scary stories at the ready.
25. S'MORES
26. DINNER AT THE POOL
!! This is one of my favorites, and will be done several times over the summer, yay!
27. Make I SPY BOOKS
. Take pics of small groupings of your childs toys, pick out a few items for them to "spy" out of each grouping and take pics of those too. Assemble into books. I like to do a page of a grouping of family photos.
28. FAMILY MOVIE NIGHT.
29. Make HOMEMADE ICE CREAM
. The new ice cream makers are great!
30. FAMILY GAME NIGHT
.
31. MAKE A MOVIE
, this was my kids idea, can't wait to see what the come up with!
32. BUILD A HOUSE OF CARDS
my kids have
never
done that, oh, the electronic age...
33. Make SIDEWALK CHALK
, great how-to
HERE
from
Oh My Handmade
.
34. Play TENNIS
35. Make QUIET BOOK PAGES
for our soon-to-be two year old.
36. Make 3-D Stars
, tutorial
here
, from
ANEKATA
37. Make "HOT AIR BALLOON"
see info
here
.
38. Make FELT GLOBE
. I saw this several months ago at
FROM CUP OF COCO
and have been wanting to make this. I thought the kids would have fun helping me. Tutorial
here
.
39. Make a WEAVED NECKLACE
or KEYCHAIN seen
here.
40. COOKING DAY like home made poptarts, or the pudding pops pictured above, from

Endless Summer

. recipe
here.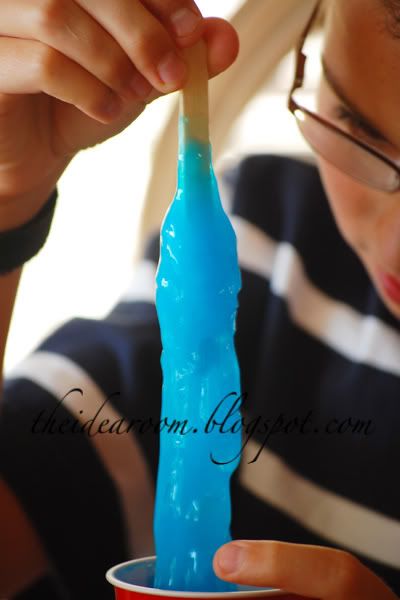 41. Make GLOW IN THE DARK SLIME from
The Idea Room
, seen here.

42. Make Wacky Sacks (play dough filled balloons) from

Somewhat Simple

, DIY here.

Thanks for visiting and
HAPPY SUMMER!!



I am linking to: